The participants of Järvi Academy Conducting course 2021 are: 
Henri Christofer Aavik
Margarita Balanas
Jonas Bürgin
Martijn Dandievel
Nele Erastus
Aivis Greters
Victor Jacob
Izabele Jankauskaite
Magdalena Klein
Jae Hwan Lee
Daniel Mieczkowski
Alexey Mihailenko
Ode Pürg
Valle-Rasmus Roots
Isabel Rubio
Dimitris Spouras
William Walker
Estonian-born conductor Henri Christofer Aavik began his musical journey as a trumpeter and  studied later additionally musicology at Tallinn Music High School. 
He started conducting at the age of fourteen and appeared as a conductor within a youth project at  the Estonian National Opera two years later. Consequently Aavik was honored with the "Tallinn's  Culture Award for Young People". In December 2020 he made there his professional debut with  Tchaikovsky's "Nutcracker".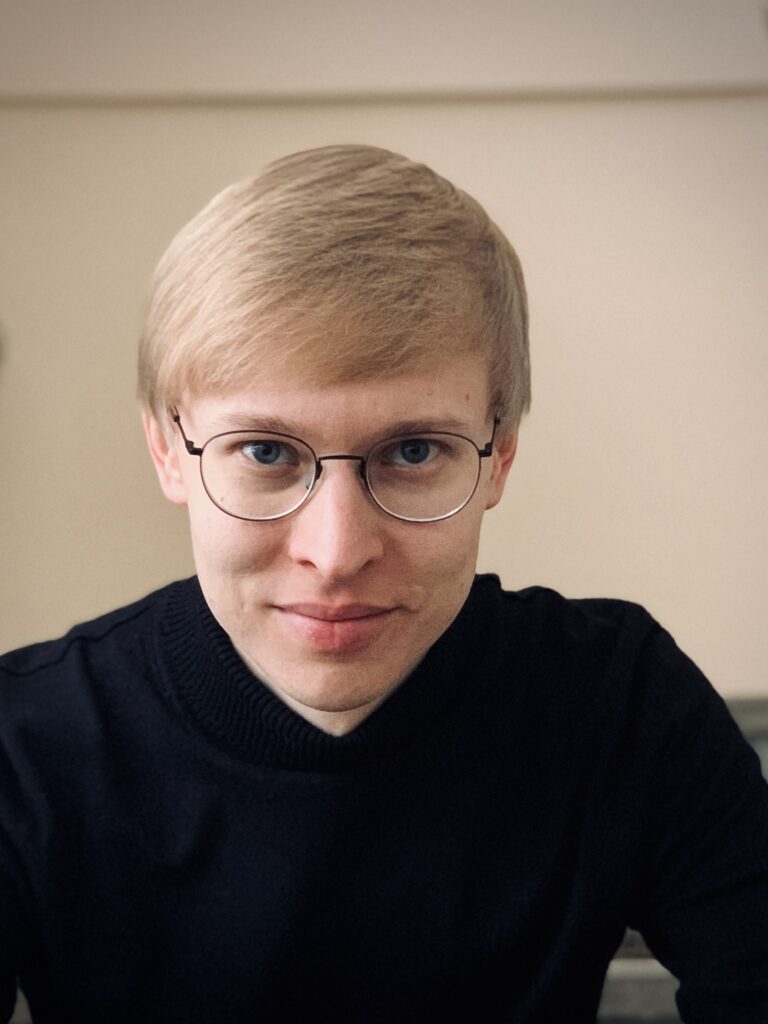 As a high-school student, he attended Jorma Panula's youth conducting classes at the Sibelius  Academy in Finland and since 2015 he studies orchestral conducting at the University of Music  Franz Liszt Weimar (Germany) in the class of Prof. Nicolás Pasquet and Prof. Ekhart Wycik. In  2019 he studied as an exchange student at the Zurich University of the Arts (Switzerland) with Prof.  Johannes Schlaefli. He took part in masterclasses with Paavo Järvi, Kristjan Järvi, Bruno Weil,  Jukka-Pekka Saraste, and Johannes Gustavsson, as well as in modern music workshops of Christof  Löser, Steffen Schleiermacher, Rüdiger Bohn, and Zsolt Nagy.  
Aavik has conducted more than 60 musical ensembles, i.a. Staatskapelle Weimar, Jena  Philharmonic Orchestra, Göttingen Symphony Orchestra, Southwest German Philharmonic  Orchestra of Konstanz, Cottbus State Theatre Philharmonic Orchestra (Germany), Hradec Králové  Philharmonic Orchestra, The North Czech Philharmonic Orchestra of Teplice, Karlovy Vary  Symphony Orchestra (Czech Republic), Dutch National Youth Fanfare Orchestra, Pärnu City  Orchestra, Estonian Sinfonietta and numerous project ensembles. From 2017 to 2019 he was the  artistic director and conductor of the Symphony Orchestra of the Technical University of Ilmenau  (Germany).  
Since 2021 Henri Christofer Aavik is a scholar of the Conductors' Forum of the German Music  Council (Dirigentenforum des Deutschen Musikrats).
Latvian cellist Margarita Balanas is one of the most exciting and versatile artists of her generation.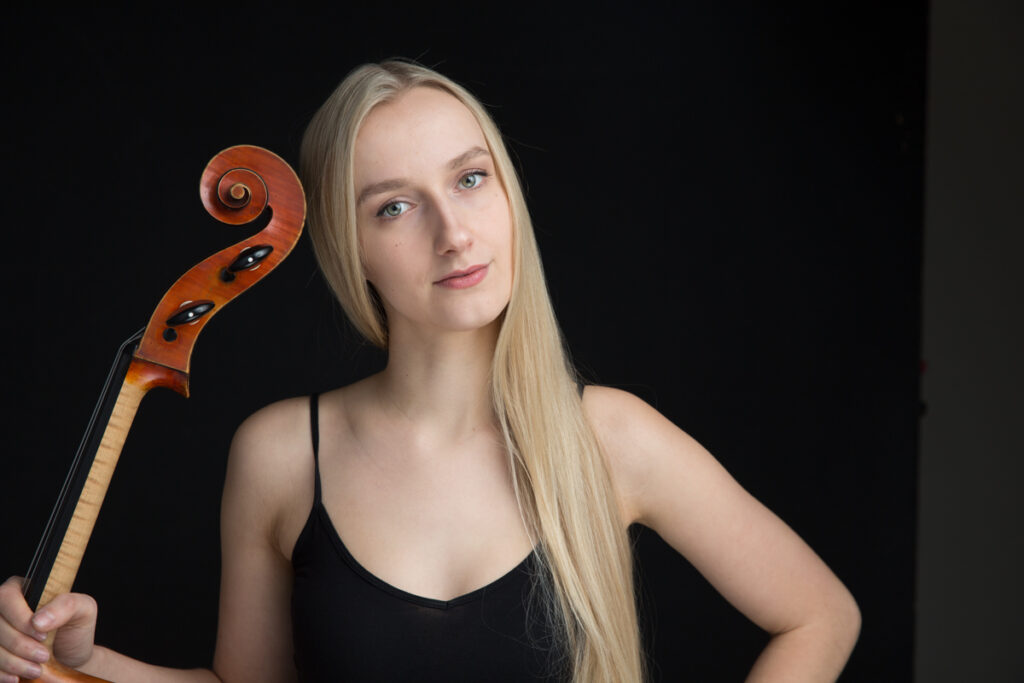 Balanas made her solo debut at Wigmore Hall at age 17 and has performed for dignitaries and royalty, including HRH Prince Charles at venues such as Royal Festival Hall, Berliner Philharmonie, Laeiszhalle Hamburg, Foundation Louis Vuitton, Southbank Centre, Walt Disney Hall, and has appeared in festivals such as Piatigorsky International Cello Festival, the Adelaide International Cello Festival, the International Cello Festival Shanghai, Schleswig-Holstein Musik Festival and performed with the Israel Camerata, Sinfonie Orchester Berlin, Saarbrucken Symphony Orchestra, Orchestra Filharmonica Marchigiana, Orchestra of St Johns, Malta Philharmonic Orchestra, Sinfonietta Rīga, Lithuanian National Orchestra and others. 
Margarita is a regular guest artist for Scala Radio, BBC Radio 3 and Classic FM. In 2020 Balanas was extended a personal invitation by Anne-Sophie Mutter to tour with the Mutter Virtuosi across South America. 
Margarita regularly performs with her sister violinist Kristine Balanas, they performed the Brahms Double Concerto at the Berliner Philharmonie as well as Philip Glass Double Concerto at the International Cello Festival in Latvia. In May 2021, they will be performing Brahms Double concerto at Emergents Barcelona Music Festival with the Barcelona Symphony Orchestra. They toured France as part of the Festival Radio France Occitanie Montpellier and gave masterclasses and recitals at the Cayman Arts Festival. Balanas sisters were appointed as Honorary Patrons of BOV Joseph Calleja Foundation in recognition of their outstanding contribution.
Balanas has collaborated with such artists as Anne-Sophie Mutter, Lynn Harrell, Trevor Pinnock, Murray Perahia, Paul Daniel, Sir Mark Elder, Sir Peter Maxwell Davies.
Margarita studied at the Royal Academy of Music in London with Mats Lidstrom, her mentor since 2014 was Lynn Harrell. 
Jonas Bürgin (1996*) completed his bachelor's degree in orchestral conducting with Prof. Johannes  Schlaefli at the Zurich University of the Arts in 2021. Since early 2021, he is holding scholarships from the 'Deutsches Dirigentenforum' and the Peter Eötvös Foundation. Jonas Bürgin is also one of eight  candidates for the Herbert von Karajan Young Conductors Award 2021. At the Gstaad Menuhin Festival  Conducting Academy he was awarded the Neeme Järvi Prize 2019, and in 2017 he won the first prize  at the London Classical Soloists Competition I.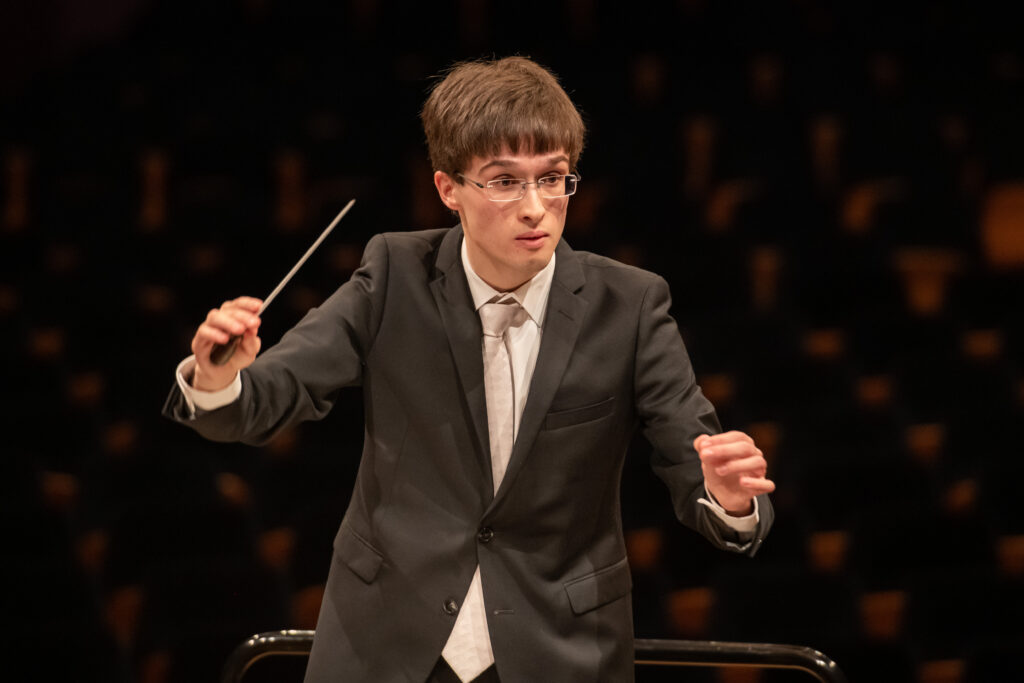 Jonas Bürgin is the chief conductor of the orchestra Junge Zürcher Harmoniker, which he founded in  2015. With the establishment of this successful chamber ensemble, he is committed to new concert  formats and is looking for collaborations across a wide spectre of art forms.  
Bürgin has performed with orchestras such as the argovia philharmonic, the Collegium Musicum Basel,  the Symphony Orchestra Göttingen, the Central Swiss Youth Symphony Orchestra, the camerata  AKSAdemica and the Youth Symphony Orchestra Aargau (Switzerland). He was appointed as the musical director of the 13th production of OpernHausen, for whom he conducted a new production of  the opera "La Vera Costanza" by Josef Haydn during the summer of 2018.  
Bürgin attended master classes with Bernard Haitink, Manfred Honeck, Peter Eötvös, Nicolas Pasquet,  Douglas Bostock, Larry Rachleff, William Blank, James Lowe and Ulrich Windfuhr. As part of these  master classes, he conducted the Gstaad Festival Orchestra, the Staatsphilharmonie Baden-Baden, the  Südwestdeutsche Philharmonie Konstanz, the Hamburg Camerata, the London Classical Soloists, the  Kurpfälzisches Kammerorchester, etc.
Martijn Dendievel showed interest in music during his childhood and has grown today to a 25-year  old versatile musician. He currently serves as assistant conductor to the Flanders Symphony Orchestra and is supported by the Dirigentenforum of the German Music Council.
In December 2018,  he won the first prize in the conducting competition of the MDR Symphony Orchestra. This was  followed by the first prize and the audience prize at the Louis Spohr Conducting Competition in Kassel  in September 2019. More recently, he won the Conductor's Academy of the Tonhalle-Orchester in  Zurich and was a finalist in the Donatella Flick Competition in London.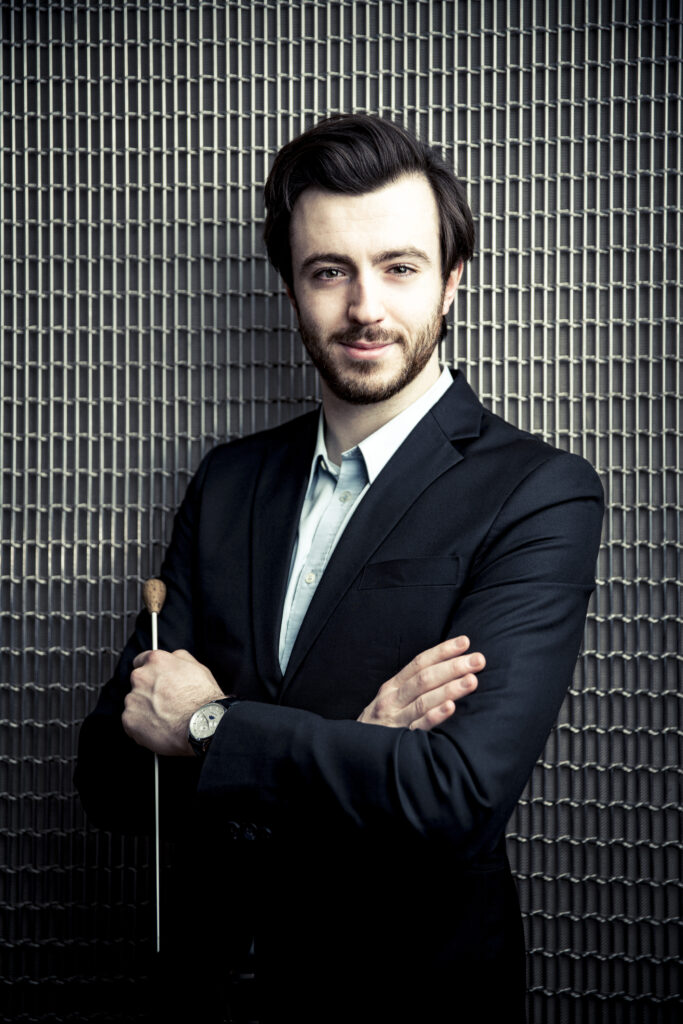 After taking first musical steps on the violin, he switched to violoncello and enrolled in the city  conservatory in Bruges. There, he also studied percussion, harpsichord and recorder. He gained  orchestral experience as a timpanist and cellist in several Belgian youth orchestras. At the age of 14, he was exceptionally accepted at the Royal Conservatory in Brussels where he obtained a bachelor's  degree in music theory with distinction. In 2014 Martijn came to the HfM FRANZ LISZT in Weimar as an  Erasmus student, where he continues his conducting studies with Prof. Nicolás Pasquet. Furthermore,  he gained valuable insights during masterclasses with Bernard Haitink, Christian Thielemann, Paavo  Järvi and Iván Fischer.  
He has made guest appearances with the Belgian National Orchestra, the Jenaer Philharmonie, the  Staatskapelle Weimar and the MDR Symphony Orchestra. He has also led the Royal Concertgebouw  Orchestra, the Antwerp Symphony Orchestra, the Filharmonie Hradec Králové and the Bremen  Philharmonic. In December 2019 he made his conducting debut at the Concertgebouw Amsterdam  with the Flanders Symphony Orchestra. 
In 2021 he will have his debut with the Nuremberg Symphony Orchestra and the Orchestre  Philharmonique Royal de Liège. 
Nele Erastus has been highly involved with music in her hometown Pärnu, Estonia from an early age. Today, she is active both nationally and internationally as a conductor, singer and chorus master. 
Nele finished her choral conducting Bachelor's degree under Tõnu Kaljuste in the Estonian Academy of Music and Theatre and is now pursuing a Master's degree in Toomas Kapten's class. She has participated in both choral and orchestra masterclasses with Paavo Järvi, Kristjan Järvi, Frieder Bernius, Josep Vila i Casañas, Simon Halsey and many others.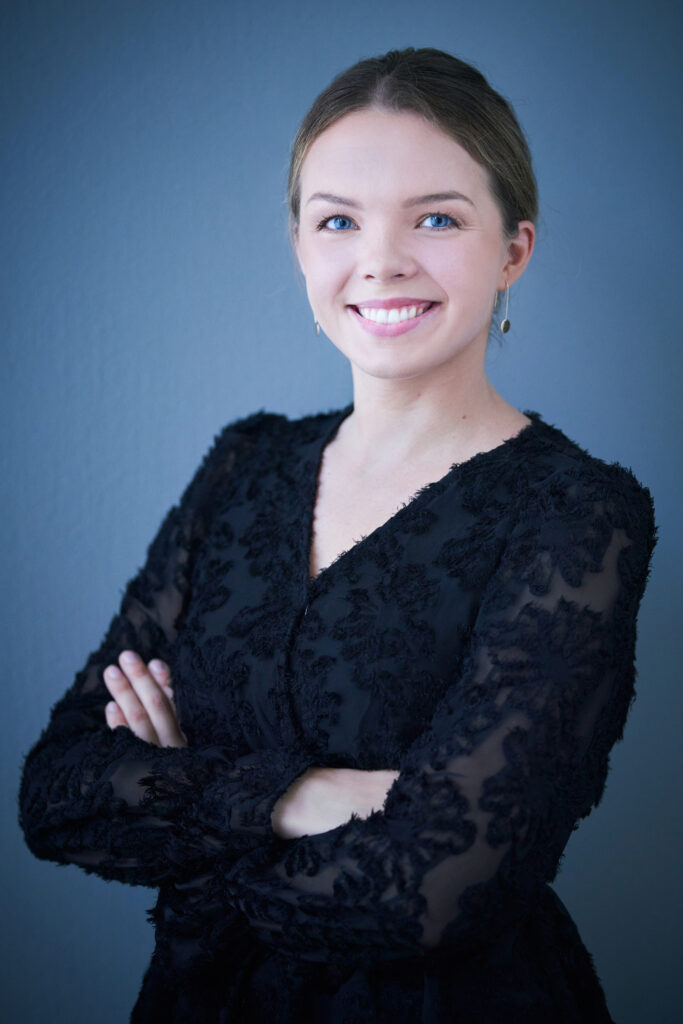 A recipient of the Young Conductor of the Year award in 2020, Nele earned 2nd place at the 7th Competition for Estonian Young Conductors in October 2019, and won 1st prize in the 2016 Estonian Music Schools' Conducting competition.
Nele is currently serving her 3rd season as chief conductor of Chamber Choir Sireen where she recently led the ensemble to 1st prize in the adult category of the 2019 European Broadcasting Union's (EBU) Choir Competition in Barcelona, Spain.
Aivis Greters during season 2020/2021 had debut with main three Latvian orchestra's – Latvian National Symphony Orchestra, Sinfonietta Riga and Liepāja Symphony Orchestra. Early 2021 Greters received The Grand Music Award in category "Young artist of the year 2020″ and also in category for " Artistically brave and innovative work during COVID-19″ for project with Youth Choir Kamēr… in Music Festival Cēsis.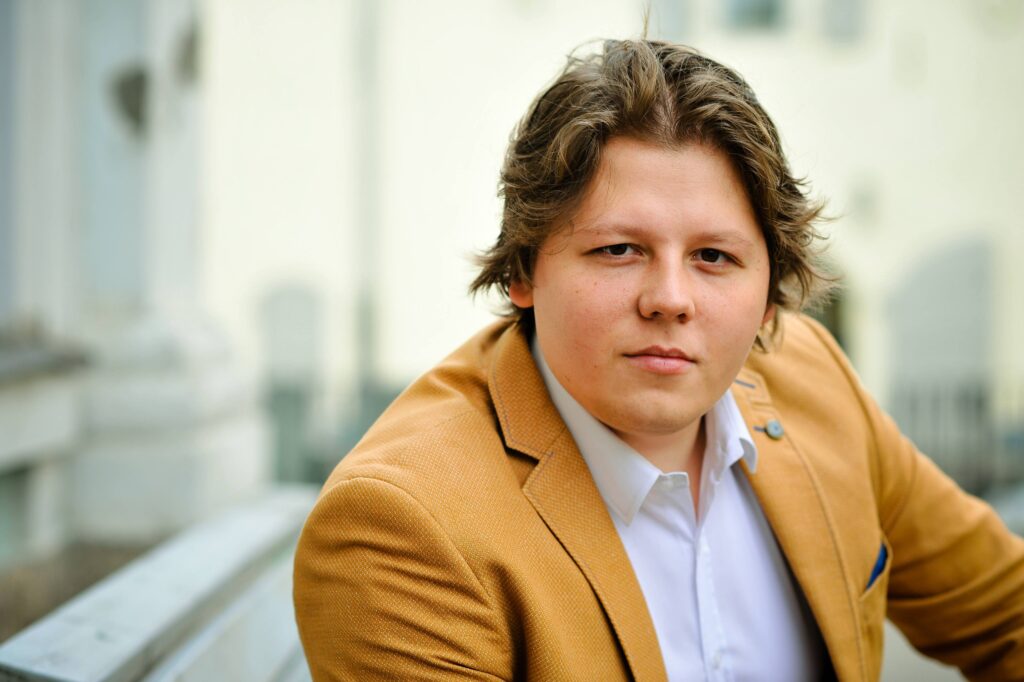 Aivis Greters is Artistic director and conductor of Youth Choir Kamēr… since 2018, before which he was a singer and the choir's second conductor. With the leadership of Greters, Youth choir Kamēr… won the Grand Prix of the 50th Tolosa Choral contest 2018. August of 2019 Greters together with Kamēr… won European Grand Prix in Arezzo and became the first choir who has won three EGP titles in the world. 2017 Aivis has won the first prize at the Nordic Choir Conductor Competition in Denmark.

June 2021 Aivis will graduate Latvian Academy of Music orchestral conducting department, Professor Mārtiņš Ozoliņš. From 2013-2017 studied choral conducting in Latvian Academy of Music and during 2015-2016 developed his skills at the Royal College of Music, Stockholm.
Greters has participated in numerous master classes including Bach cantatas with Jorg-Peter Weigle, English renaissance with Steven Layton, Mozart Opera arias with Zbigniew Graca, Orchestral Conducting with Lutz Kohler, Ekhart Wycik, Alexander Polianichko and passive participation in Järvi Academy 2019.
Finalist and "Mention Spécial" in Besançon Conducting Competition 2019, French conductor Victor Jacob is currently assistant conductor of Liège Royal Philharmonic Orchestra.
He is regularly invited with orchestras in Europe and abroad, including Orchestre National de Lyon, Orchestre Philharmonique de Marseille, Moscow State Philharmonia (МГСО), Orchestre National de Montpellier, Orquestra Sinfonica Simon Bolivar de Venezuela, Orchestre Symphonique de Mulhouse, Orchestre de Chambre Nouvelle-Acquitaine, or Esbjerg Ensemble in Denmark.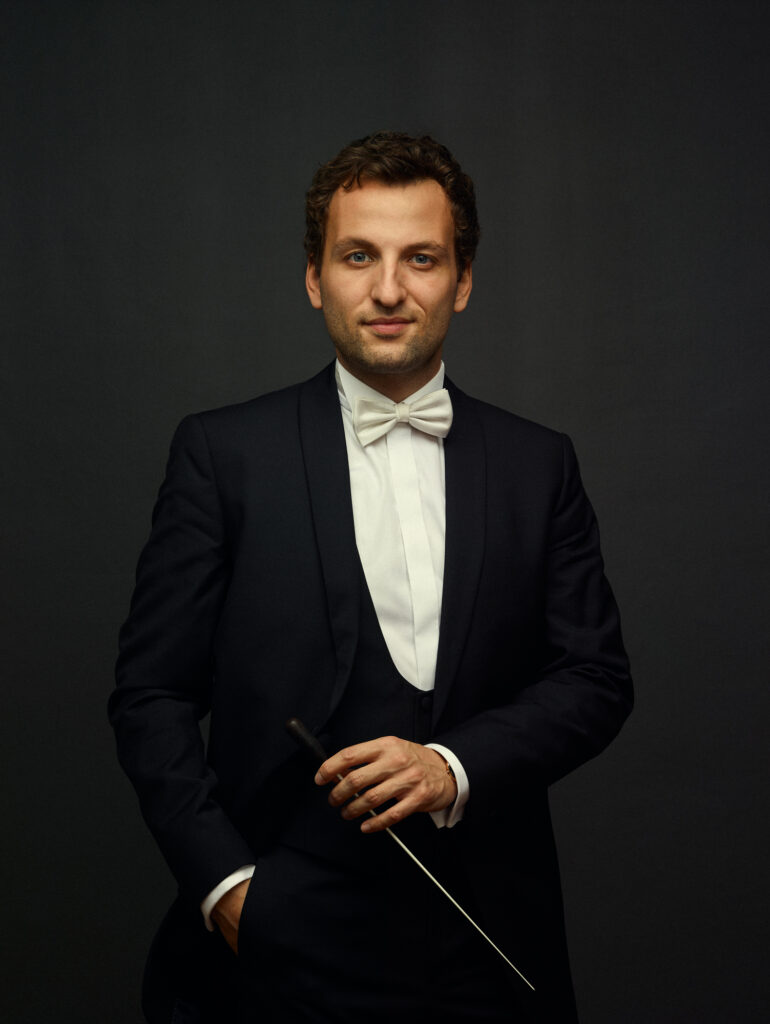 Next season he will make his debuts with Orchestre National de Bordeaux, Orchestre Opéra de Rouen Normandie, and Orchestre de Chambre de Paris at Théatre des Champs-Élysées, as well as Chorégies d'Orange festival.
In opera productions, Victor is also invited to conduct or assist the Orchestre Philharmonique de Monte-Carlo, Orchestre Symphonique de La Monnaie, Orchestre National de France or Orchestre Philharmonique de Radio-France.
Graduated from the Royal Academy of Music in London and the Conservatoire National Supérieur in Paris, he was trained by Alain Altinoglu, Sian Edwards, Marin Alsop, David Zinman, Lawrence Foster and Bernard Haitink.
Born in Vilnius, Lithuania, Izabele Jankauskaite began her musical journey in the Mikalojus Konstantinas Ciurlionis School of Arts (MKC) where she received piano lessons, vocal training and basics of choral conducting. In 2017 she won the First Place in the Jonas Aleksa Choir Conducting Competition. Since 2019, she is currently the Choir Director of the Johannes-Mellingen Choir and Stadtsänger Winterthur.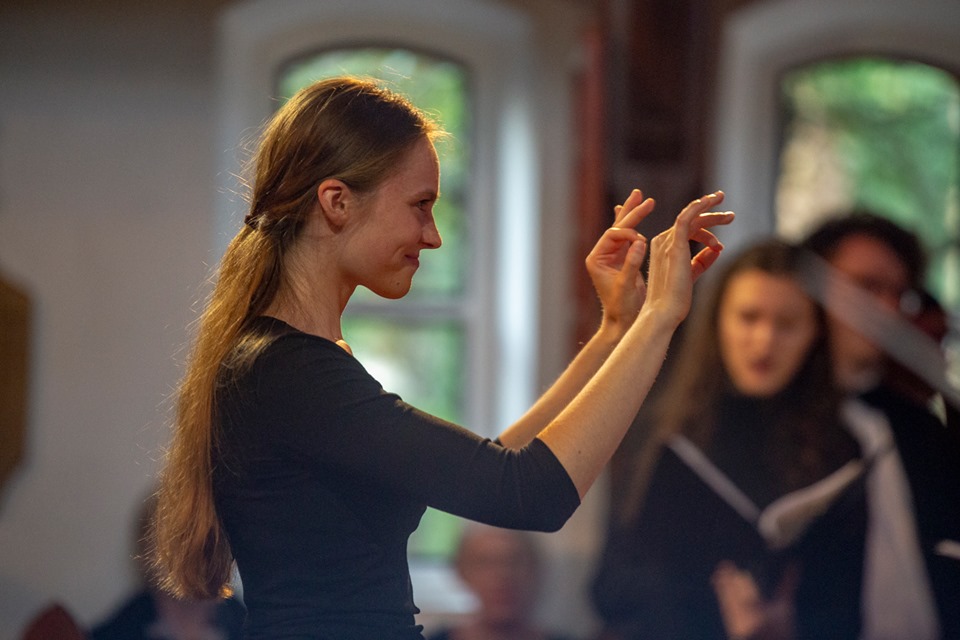 She began her choral conducting bachelor studies in 2018 at the Zurich University of the Arts (ZHdK) with Prof. Beat Schäfer and Markus Utz. Two years later, she switched to orchestral conducting with Prof. Johannes Schlaefli. As a choral conductor, she performed with choirs such as Chamber Choir Aidija, Vilnius State Choir, Thun Sommerakademie Choir, M.K. Ciurlionis school Choir and others. She was also an assistant conductor of the Laudate Choir in Zurich.
She has participated in masterclasses and attended workshops with conductors including Paavo Järvi, James Lowe, Rodolfo Fischer, Raphael Immoos, Anders Eby, Jeffrey Douma.
While studying in ZHdK, she worked with orchestras such as Göttingen Symphony Orchestra, Konstanz Südwestdeutsche Philharmonic, Sofia Philharmonic, Biel Solothurn Symphony, Collegium Musicum Basel, Baden-Baden Philarmonic and Musica Viva Schweiz Orchestra. Upcoming concerts are planned with the Göttingen Symphony Orchestra and the Central Swiss Youth Symphony Orchestra ZJSO.
She is a scholarship recipient from the Lyra Foundation.
Magdalena Klein is currently the Assistant Conductor of the Bochumer Symphoniker, whom she regularly leads in projects of her own. She finished her Masters degree in Conducting at the International Conducting Academy at the University of the Arts Berlin. Orchestras she conducted include the Deutsche Sinfonieorchester Berlin, Neubrandenburgische Philharmonie, Kammerakademie Potsdam, Brandenburgisches Staatsorchester Frankfurt, Magdeburgische Philharmonie as well as the Orchestra of the Komische Oper Berlin. In 2019 Magdalena Klein qualified for the final stage of the conducting competition of German conservatories in Nürnberg.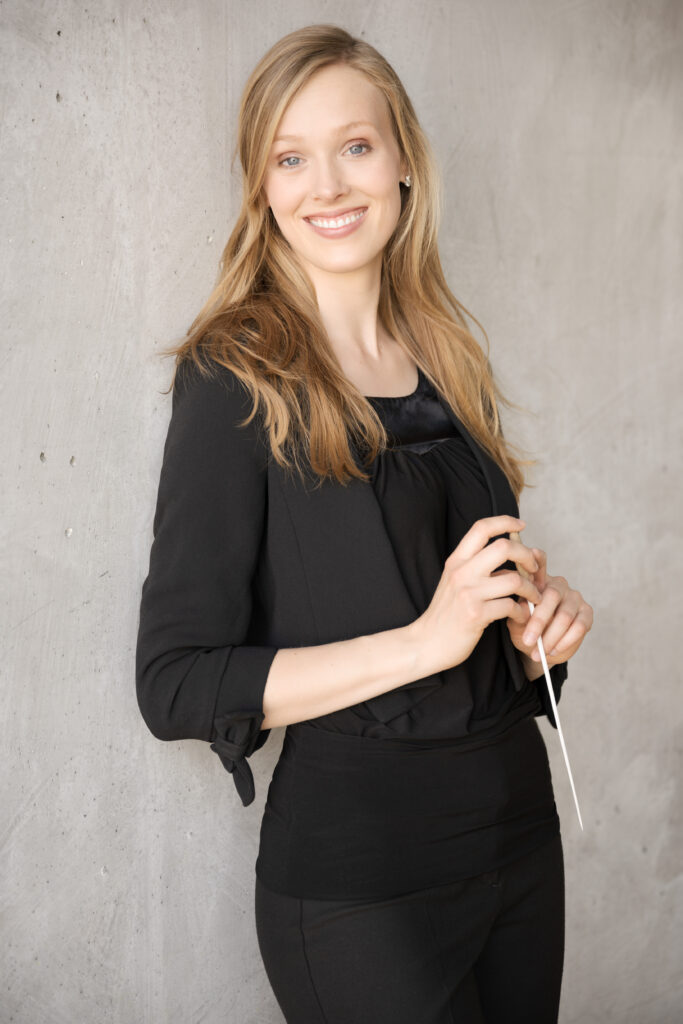 In 2016 the young conductor founded orchestr.insîéme in Berlin. Since then this orchestra has given numerous successful concerts under her baton, playing symphonic repertoire from the classical and romantic period as well as music by living composers. Magdalena Klein learned from teachers including Steven Sloane, Antony Hermus, Harry Curtis, and Sir Roger Norrington. 
Jae Hwan Lee grew up in Seoul, South Korea and first came to international attention in  January 2020 when he participated in 2020 Hong Kong Conducting Workshop with Hong  Kong Sinfonietta. In November 2016 it was announced that he had been appointed Assistant  Conductor of the Korea National Police Orchestra. This role performed in the 17/18 season. Through this position, Lee was able to directly feel the process of musical interaction with  musicians and audience, how to make an identity of orchestra, how to complete concerts, as well as the process of putting music on stages in the institutional system.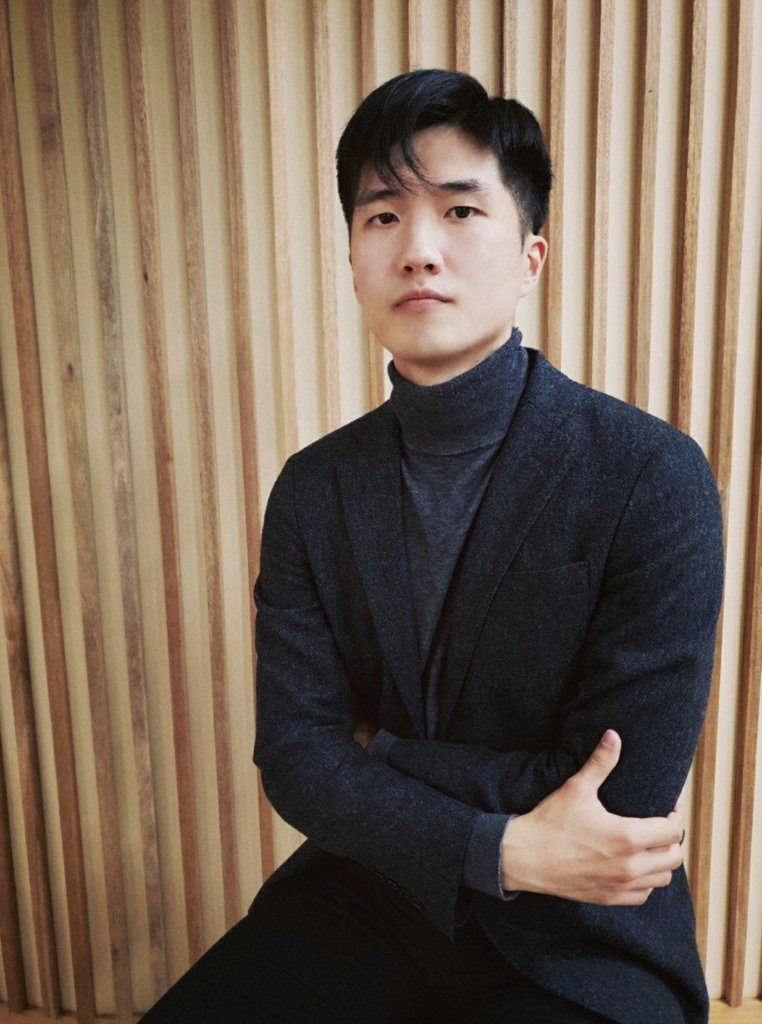 Jae Hwan Lee made his debut with the St. Petersburg Conservatory Orchestra in Russia in  July 2016 to conduct 9th symphony of Shostakovich and an opera 'La Traviata' of Verdi.  During the various performance of St. Petersburg conservatory, Lee conducted repertoire as  diverse as Mozart, Beethoven, Schumann, Schubert, Mendelssohn, Brahms, Tchaikovsky,  Rimsky-Korsakov, Shostakovich, Prokofiev.  
Lee moved to Moscow by himself and studied piano at the Moscow Academic Music College in choral conducting with Marina Tsaturian in 2010. Away from Moscow,  he graduated from Saint-Petersburg Conservatory majoring in opera-symphony conducting (Academic Degree: Specialist), mastered under Mikhail Kukushkin.
Daniel Mieczkowski is a flutist and conductor born in Warsaw in 1999. He is currently a student of the Fryderyk Chopin University of Music in Warsaw in the conducting class of Monika Wolińska and the flute class of Agata Igras. As a soloist, chamber musician, orchestral musician or conductor he has performed successfully in Poland, Germany, Austria, Czech Republic, Italy, Serbia, Romania, Estonia, USA, Slovakia, Lithuania and Hungary.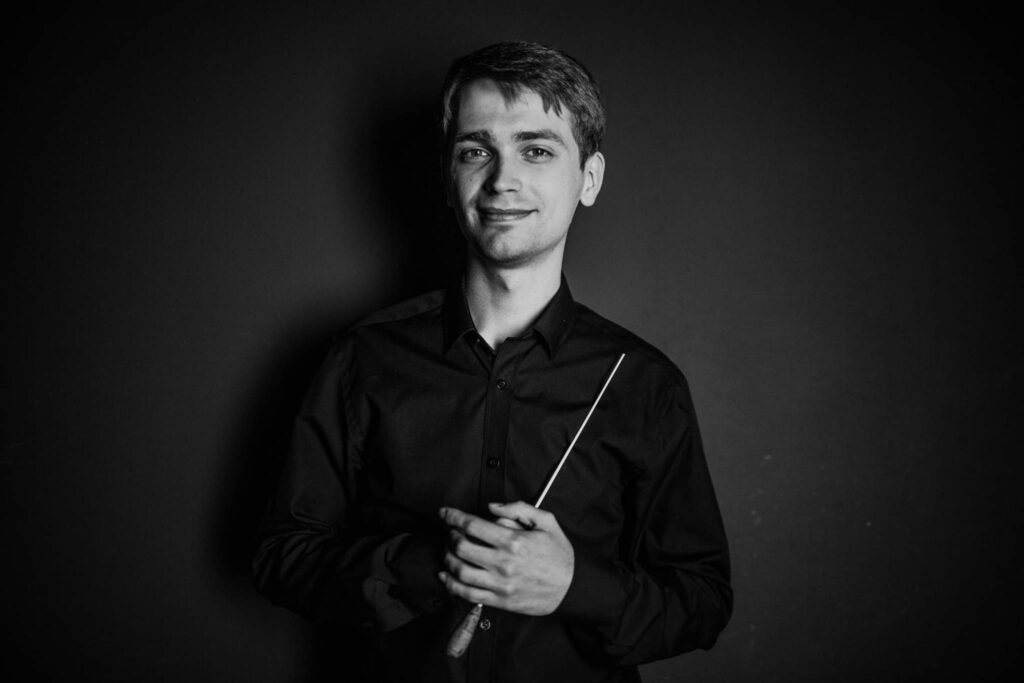 He participated in master classes with Marin Alsop (with the National Polish Radio Symphony Orchestra in Katowice), Jorma Panula (with members of the Turku Philharmonic), Gabor Hollerung, Jerzy Maksymiuk, Paweł Przytocki (with Łódź Philharmonic). He is a laureate of national and international music competitions. His greatest achievements include the 2nd prize at the Friedrich Kuhlau International Flute Competition in Ülzen, the 3rd prize at the Leos Janaček International Competition in Brno and the 1st prize and award of the orchestra at the National Competition for Students of Conducting Adam Kopyciński in Wrocław. 
He currently works as a pianist-accompanist and assistant conductor in the award-winning Warsaw Boys' Choir and as the conductor of the Endorfina Chamber Choir in Warsaw.
Alexey Mikhaylenko comes from a Moscow family of musicians. After graduating from two music schools, he moved to the College of Music at the Moscow State Conservatory to Rafael Bagdasaryan Sr., the famous clarinet soloist of the Bolshoi Theater. During this time he also completed a year at the Norwegian Academy of Music in Oslo with Hans Christian Bræin. In 2009 he completed his studies in Moscow with a master's degree. From 2016 to 2021 Mikhaylenko studied at the University of Music and Performing Arts Vienna with Mark Stringer (conducting), Yuji Yuasa (conducting), Barbara Moser (piano) and Vladimir Kiradjiev (opera conducting). In addition, he completed masterclasses with renowned international conductors such as Andrés Orozco-Estrada, Teodor Currentzis, Marin Alsop, Kristjan Järvi, Yu Feng and Sabine Meyer (as clarinettist).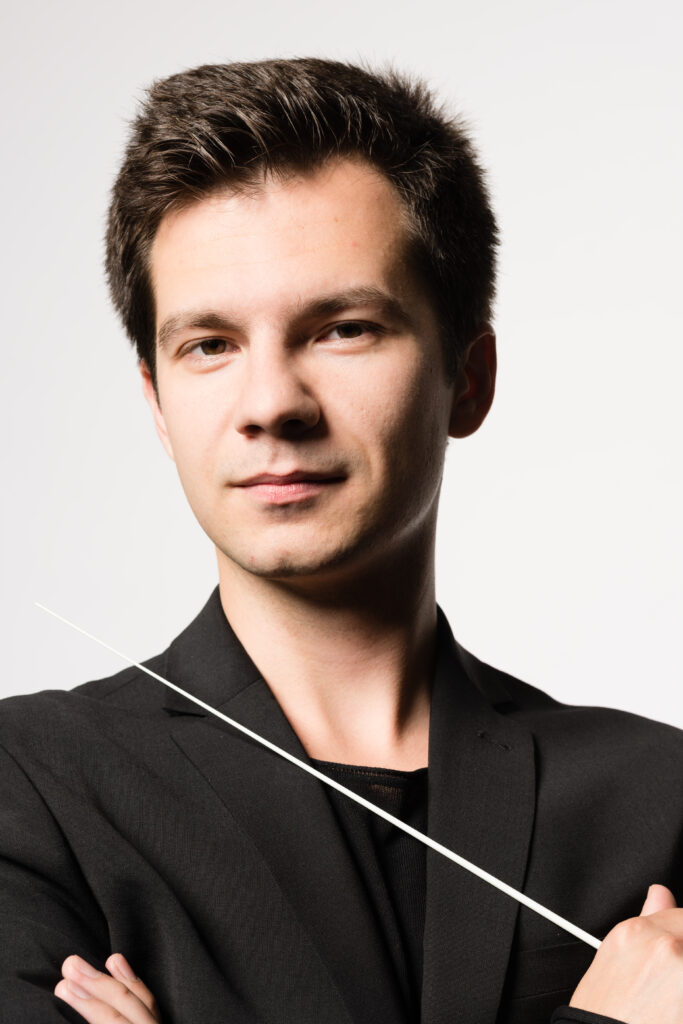 As an instrumentalist and conductor, Mikhaylenko is a co-founder of the "Messiaen Quartet" and "Vienna Ensemble". He is also active in the artist group of the theatre agency "Art Partner XXI", the theatre "Hochschule für Schauspielkunst" and the "Theater der Nations" as a clarinettist and conductor. Mikhaylenko is also a member of the "Trio Variabile". He has won six international clarinet and chamber music competitions in Austria, Portugal, Poland and Russia.
Since 2011, Alexey Mikhaylenko has been an integral part of the young artists of the Baltic Sea Philharmonic Orchestra under the direction of Kristjan Järvi. He is a former solo clarinettist of the Russian State Symphony Orchestra and has participated in many productions by MusicAeterna and Teodor Currentzis.
Mikhaylenko has worked with orchestras such as the Wiener Symphoniker, the Danish National Symphony Orchestra, the George Enescu Philharmonic Orchestra, the Baltic Sea Philharmonic and the Russian Chamber Philharmonie St.Petersburg. In January 2020, Mikhaylenko conducted a tour of 15 concerts with the Wien Klang Sinfonietta in China.
Ode Pürg (1999) began her conducting studies at Tallinn Music High School (2014) in Ingrid Kõrvits' choral conducting class. She graduated from the Estonian Academy of Music and Theatre (EAMT), receiving her Bachelor's degree in choral conducting (cum laude) under professors Tõnu Kaljuste, Kaspar Mänd and Toomas Kapten (2021).
Pürg has worked mainly with amateur-hobby choirs. She is currently the conductor of the Women's Chamber Choir "Musamari".
In addition, she has worked as an assistant conductor and accompanist with well-known Estonian choirs, including the Estonian National Opera Boys' Choir and the semi-professional chamber choir Voces Tallinn.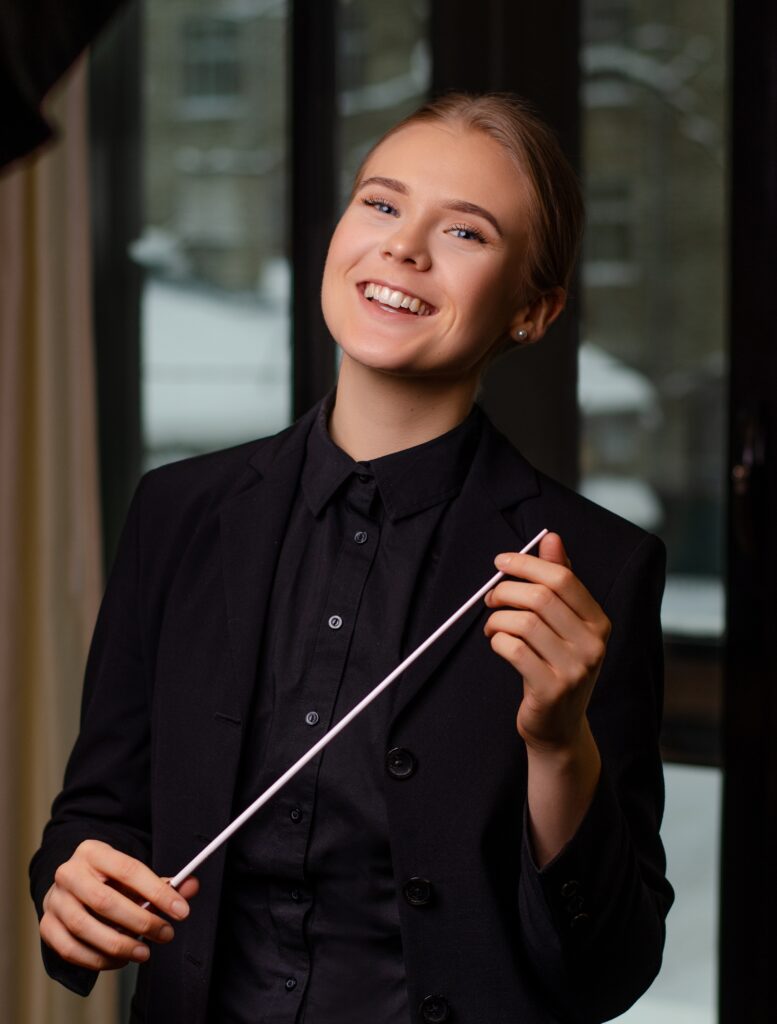 In December 2020 Ode Pürg received the "Gustav Ernesaks' study scholarship". Her other important accomplishments include receiving the 1st prize in the choral conducting video competition "Encounters Over the Choral Score" (2021), 1st prize in EAMT's inner choral conducting competition (2019), and receiving the highest prize in Estonia's young pianists' competition "Eesti Kõla V" (2016). In addition, she has taken part in "Sing Ireland " choral conducting masterclass (2019) with Dr. Zoltan Pad.
Valle-Rasmus Roots (born 26.07.1994) is currently studying orchestral conducting with prof. Paul Mägi at Estonian Academy of Music and Theatre. He studied conducting with Jüri Alperten in 2018-2020. Valle-Rasmus began his cello studies at the Tallinn Music High School with Mart Laas in 2001 which he graduated in 2013. In EAMT he obtained both bachelor and master's degree in cello playing in prof. Henry-David Varema's cello class.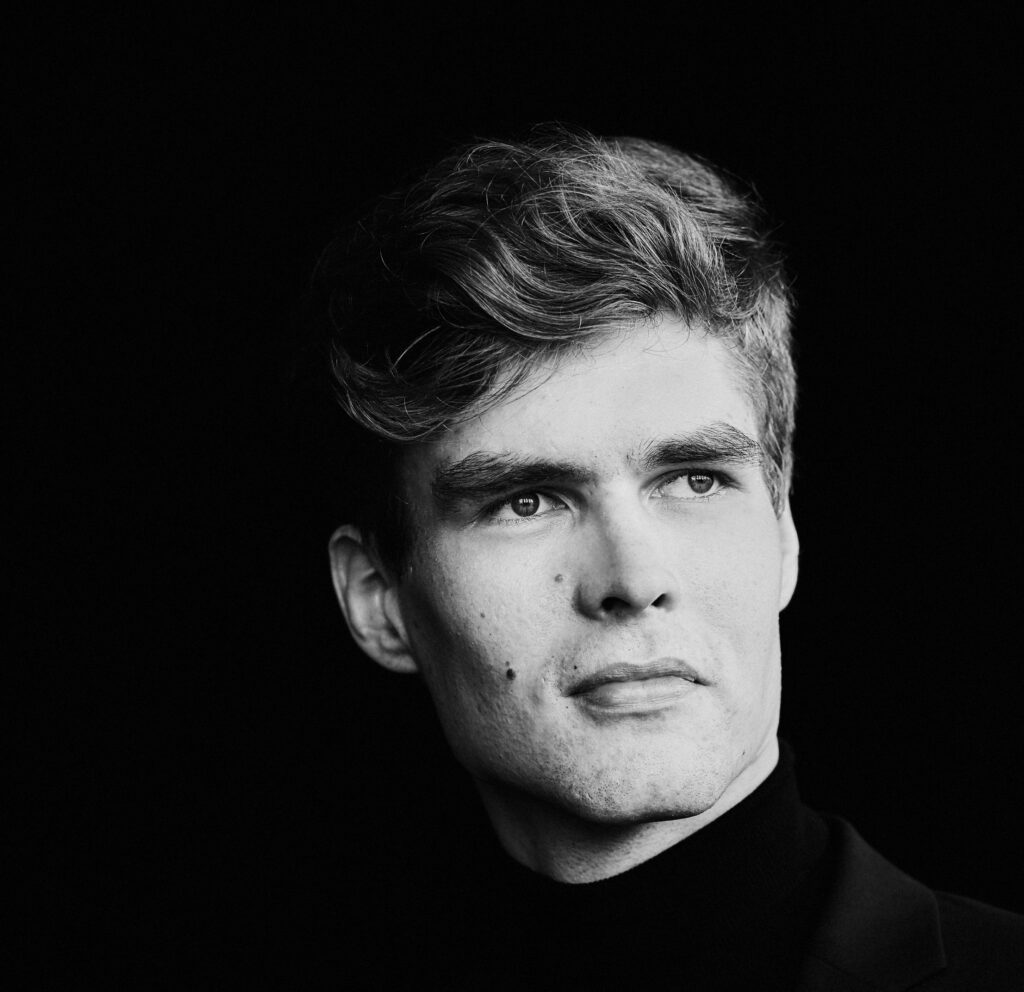 He has also been a student via ERASMUS+ program of prof. Wolfgang Boettcher at Universität der Künste Berlin and in Sibelius Academy in Helsinki with prof. Marko Ylönen. Valle-Rasmus has taken part in national and international competitions. He was awarded 1st prize at the Baltic String Competition 2018. In 2016 he became the laureate of Yamaha scholarship. Valle-Rasmus has taken part in many mastercourses and festivals. He has participated in masterclasses by such cellists like Wolfgang Boettcher, David Geringas, Francis Gouton, Marko Ylönen and others. Valle-Rasmus has been a soloist with Estonian National Symphony Orchestra, Tallinn Chamber Orchestra, Tallinn Music High School Symphony Orchestra, Pärnu City Orchestra, Philharmonic orchestra of Baden-Baden, EAMT Symphony Orchestra. Valle-Rasmus Roots plays a C. Farotti cello (owner Mrs. Maivi Kaljuvee) kindly on loan from the Estonian Foundation of Musical Instruments.
Spanish conductor, Isabel Rubio is Associated Conductor of Vigo430 Orchestra and associated conductor of Granada Youth Orchestra. She was Assistant Conductor of Valencia Orchestra and Assistant of Lucas Macías with the Spanish National Youth Orchestra.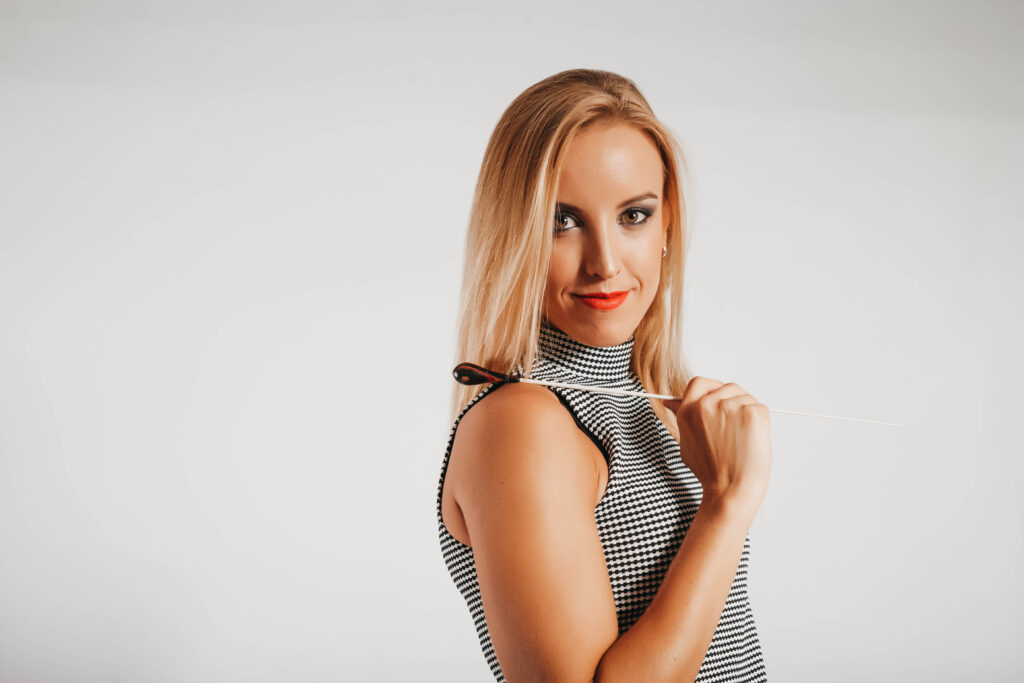 Isabel won the "Alicante National Conducting Competition", won the "Villena International Conducting Competition", won the "Bilbao Orchestral Conducting Meetings", and she was Semi-finalist in the "Guido Cantelli" International Conducting Competition (2020-Italy).
She has conducted: Gran Canaria Philarmonic Orchestra, Oviedo Filarmonía Orchestra, Valencia Orchestra, Murcia Symphonic Orchestra, Menorca Chamber Orchestra, Spanish National Youth Orchestra, European Youth Wind Orchestra, Castelló Youth Symphony Orchestra, Federal Valencia Orchestra, Valencia University Orchestra and "Sine Tempore" Orchestra. 
She is graduated in Conducting and Percussion with Honor Mention between Bruxelles and Murcia. She has a Master in Music Education. She also studied at the Orchestra Conducting International Academy (Valencia). 
She conducted at the International Violin Competition "Cullerarts", "Cuenca International Music Festival" and "Málaga International Music Festival". 
As Guest conductor, Isabel conduct wind bands all over Spain and Portugal, highlighting professional wind bands in Spain as Alicante, Bilbao, Pontevedra, Vitoria, Santiago de Compostela and Madrid.
As Chief conductor, she conducted wind bands in Murcia and Galicia. She was also a chorus, chamber music, percussion, analysis and orchestra teacher at the conservatory. Isabel was jury in national and international composition and wind band contests in Spain.
She was musician from: Murcia Orchestra, Chapelle Musicale de Tournai, Brussels Orchestra and Murcia Youth Orchestra. Isabel also won an Interpretation Competition in Murcia.
She attended conducting courses and competitions like "Atlantic Coast International Conducting Competition" (Portugal); "Weimar Meisterkurse" (Germany); "Concourse International de Chefs D´Orchestre de Besançon" (France) or "World Music Contest International Conductors Competition" (Netherlands).
Dimitris Spouras is a Greek conductor and clarinet player. Spouras has won the  National Greek Conducting Competition, and conducted the Stuttgarter  Philharmoniker, the MAV Symphony Orchestra, the Radio Flemish Choir, the  State Ochestra of Thessaloniki, the State Orchestra of Athens, the Russe  Philharmonic Orchestra of Bulgaria, the Royal Norwegian Navy Band, the Staff  Band of the Norwegian Armed Forces and many more. While conducting he has  worked with acclaimed musicians such as Eliane Rodrigues, Wilfried Van den  Brande, Aaron Wajnberg, Hendrickje Van Kerckhove, Nadja Nevolovitsch,  Fabio Zanon, Peter Van de Velde and Sabrina Vlaskalic.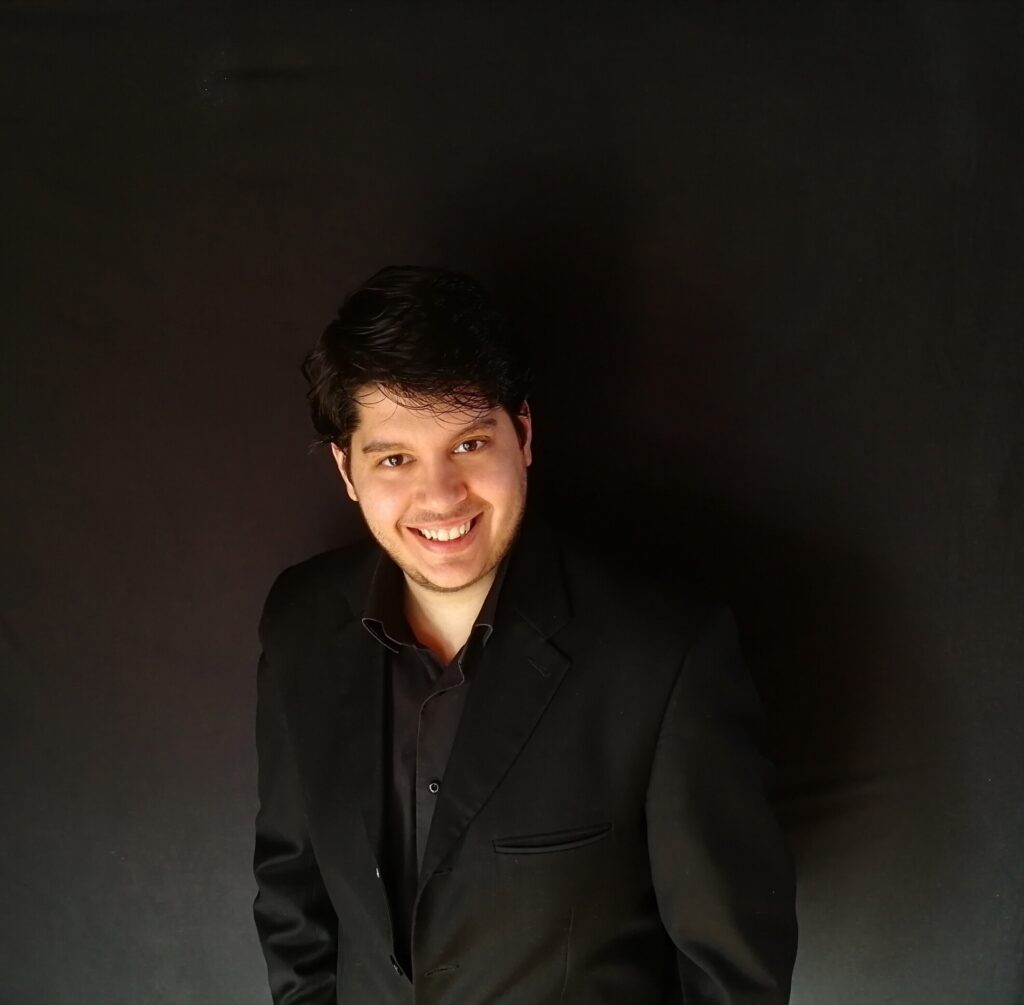 As a clarinetist, he has played with London Symphony Orchestra under many  famous conductors such as Sir. Simon Rattle, Daniel Harding and Gianandrea  Noseda. In 2015 Spouras founded Antwerpen Camerata in Belgium, and he is  today both Chief conductor and Artistic Director of the orchestra.  
In 2017 he finished his Master at Guildhall School of Music in Clarinet with  Distinction Degree and Concert Recital Diploma. While Studying at the Guildhall  School of Music with Andrew Marriner at the prestigious Orchestral Artistry  Course (A collaboration course with London Symphony Orchestra) he was  awarded the Leverhulme Trust scholarship.  
His Conducting teachers during his studies and masterclasses include Jorma  Panula, Johannes Schlaefli, Christian Ehwald, Ivo Venkov, Stefan Blunier,  Vassily Petrenko, Eivind Gulberg Jensen, James Lowe, Ole Kristian Ruud and  Maria Makraki.
Hailed as a "Modern Day Maestro", William Garfield Walker is currently the Chief Conductor of the Nova Orchester Wien (NOW!)- Vienna's newest professional orchestra. With NOW! Walker has performed for the G20 economic forum. In 2020 Walker was selected by members of the Vienna Philharmonic Orchestra for the prestigious AAF Ansbacher/Farber Conducting fellowship of the Salzburg Fellowship. In March 2020 a Resolution "Commending the Musical Genius of Mr. William Garfield Walker…" was passed by the Mississippi House of Representatives in a unanimous bipartisan vote. He is also a recipient of the Bruno Walter Memorial Conducting Scholarship. 
Walker has performed with orchestras in both Europe and the United States. Some of the orchestras that he has worked with include the Berlin Sinfonietta, Bratislava Symphony Orchestra, Cabrillo Festival Orchestra, Janacek Philharmonic Ostrava, London Classical Soloists, Mississippi Symphony Orchestra, Moonlight Symphony Orchestra, Orquesta Reino de Aragon, Bacau Philharmonic Orchestra, and the Astrakhan State Opera and Ballet Theater Orchestra. 
He is a graduate of the Royal College of Music, London, the Music and Arts University of the City of Vienna where he was the first conductor to graduate from the top graduate diploma program, and pursued additional conducting studies at the Aspen Music Festival. He has studied with maestro such as Jorma Panula, Vladimir Fedoeseyev, Michail Jurowski, Michael Rosewell, Vassily Sinaisky, and Leonard Slatkin. A versatile musician, Walker began his career at the age of 16 as a cellist in the Mississippi Symphony Orchestra and he is also a composer published by the Universal Edition.