Tallinn Chamber Orchestra (TCO) was founded in 1993 by conductor Tõnu Kaljuste. During the past three decades it has become one of Estonia's signature orchestras and a welcome guest performer on numerous stages in Europe and all over the world. TCO has gained recognition for its artistically integral programmes, style-sensitive play and mastery of interpretation. The diverse repertoire of the orchestra includes music from the Baroque, Classical and Romantic era; an important part is also held by the musical works of the composers of 20th and 21stcentury, including less known pieces and premieres. TCO's musicians are highly rated string players, who also regularly perform as soloists and chamber musicians.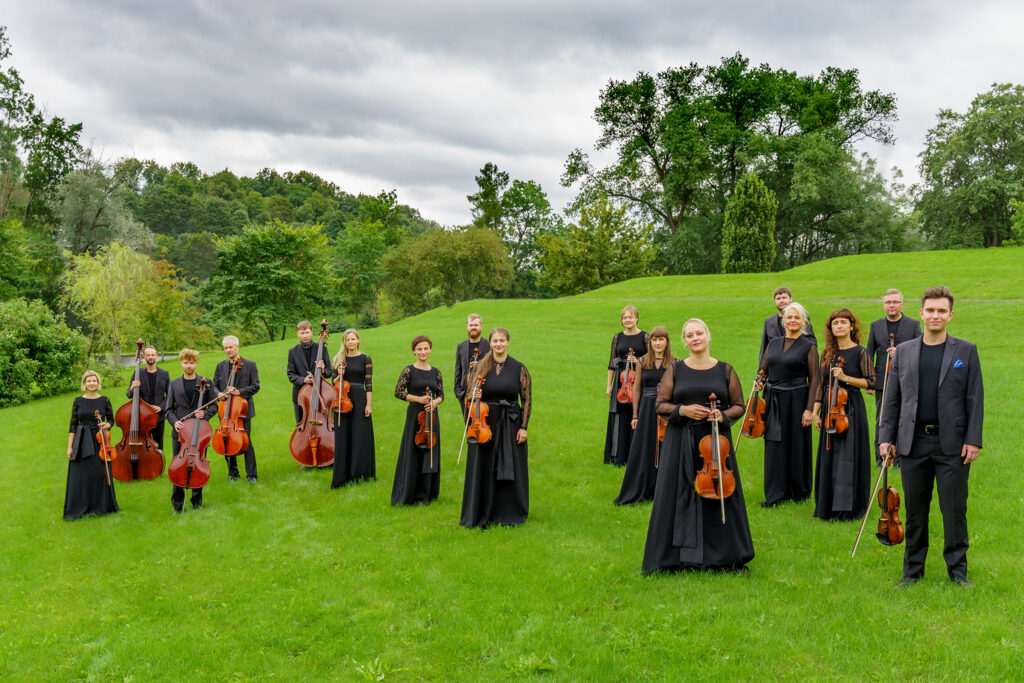 Tallinn Chamber Orchestra has a long-standng cooperation with the Estonian Philharmonic Chamber Choir – joint performances and recordings have gained international fame and recognition for both parties. In 1993, conducted by Tõnu Kaljuste they recorded Arvo Pärt's Te Deum for the ECM record company. The record earned high ratings from the world's leading music critics and remained for months in the top ten of record sales. Under the label of ECM, numerous other records have been released, such as Arvo Pärt's Litany, In Principio and Adam's Lament; also Erkki-Sven Tüür's Crystallisatioand Heino Eller's Neenia. Tallinn Chamber Orchestra has also recorded music for Warner Music / Finlandia Records, Carus Verlag, Ondine etc. In 2017 released CD "Lageda laulud" (Moorland Elegies) by estonian composer Tõnu Kõrvits was awarded the Classics Album of the Year at Estonian Music Awards 2018.
Tõnu Kaljuste was the orchestra's first chief conductor in 1993–1995 and 1996–2001. Finnish conductor Juha Kangas collaborated with the orchestra as the chief conductor in 1995–1996 and and artistic adviser in 2001–2003. The following decade was curated by Tallinn Philharmonic Society's artistic director Eri Klas. In 2013–2019 the chief conductor of TCO was Risto Joost. The season of 2019/2020 welcomes Tõnu Kaljuste as the chief conductor again. As guest conductors, the following highly rated professionals have collaborated with TCO: John Storgårds, Pietari Inkinen, Kolja Blacher, Okko Kamu, Jaakko Kuusisto, Richard Tognetti, Terje Tonnesen, Alexander Rudin, Florian Donderer, Dmitri Sitkovetski, Peter Spissky, Maxim Rysanov, Andrew-Lawrence King, Dmitri Sinkovski; also acknowledged Estonian conductors like Olari Elts, Neeme Järvi, Kristjan Järvi, Vello Pähn, and many others.
TCO has performed in many prestigious music festivals such as festival of Bach's cantatas in Milan (Italy, 1996, 1997); Musikfest Bremen (Germany, 1998); MITO SettembreMusica (Milan/Turin, 2004, 2007, 2017), the Budapest Autumn Festival (2005), Kaustinen Chamber Music Week (Finland, 2005); Festival Arturo Benedetti Michelangeli (Italy, 2007), Festival Cervantino (Mexico, 2012), Vale of Glamorgan Festival (Wales, 2015), MDR Musiksommer (Germany 2017); Euphonie (Poland, 2018), Baltic Sea Festival Stockholm (2019) etc. Concert tours have taken the orchestra to the USA, Cana- da, Japan, China, Brazil, Argentina, Mexico, and most European countries. Next to the famous concert halls in Europe, TCO has also performed in Carnegie Hall, New York City and the Forbidden City Concert Hall in Beijing.
In 2013, Tallinn Chamber Orchestra received the Estonian Music Council's Prize for Interpretation. TCO is one of performers on Arvo Pärt's record "Adam's Lament", which won a Grammy in 2014.