"There isn't a hint of a hothouse environment on stage – these are simply musicians having the time of their lives, no small thanks to the inspiring Paavo Järvi himself."
BBC Music Magazine, UK
The Estonian Festival Orchestra was founded by Paavo Järvi in 2011 and made it's debut at the newly inaugurated Pärnu Music Festival as the resident summer orchestra.
The long dreamed of ambition by Järvi to create a hand picked orchestra, bringing together the best of Estonian talent and leading musicians from from around the world, has now become a reality, establishing itself in the top-league, "imbued with the spirit of the Lucerne Festival Orchestra" (Der Standard, Austria).

"An important component in creating the orchestra was to "match-make" the players" says Paavo Järvi. "If you are a young player in Estonia, it doesn't matter how good you are, it's not often easy to make contact with a top player in the west. Now we can give these young musicians the advantage to play with elite players from abroad and get to know them as new friends. This spirit is what drives the orchestra and it is a delight each summer to see how those relationships have grown naturally, creating a melting pot of national and international talent where nationality is happily and importantly no boundary."
"It is often said that there is something in the Estonian air that is a mixture of Scandinavian, German and Russian influences and, even though we have our own very strong national identity, it is true that we also have a natural feeling for neighbouring cultures as a result of our historical and geographical position. So the idea for the Estonian Festival Orchestra is to explore music by composers from across the Baltic region, which naturally includes championing Estonia's own composers and music from the Nordic countries as well as music from Poland, Russia and Germany, countries with which our history is strongly interlinked. "
With final independence the country's own orchestral identity has grown phenomenally over the last few decades and, as ambassadors of Estonia's musical culture, the Järvi conducting family dynasty has championed the music of composers including Arvo Pärt, Lepo Sumera, Eduard Tubin and Erkki-Sven Tüür all of whose works have reached audiences across Europe and beyond.
In August 2017 the Estonian Festival Orchestra made its debut tour to neighbouring Baltic countries (Latvia, Finland, Denmark and Sweden) performing works by Nielsen, Sibelius, Shostakovich, Tchaikovsky and Erkki-Sven Tüür. Joining them were soloists Ksenia Sidorova and Lisa Batiashvili.
In January 2018, the orchestra celebrated the 100th Anniversary of Estonian Independence with its first major European tour and debut CD release. In August 2018 they went on to make history as the first ever Estonian orchestral ensemble to perform at the Proms. The London concert, which sold out within days of going on sale, was broadcast on both BBC Radio 3 and TV. In August 2018 the orchestra also returned to Germany to perform at Hamburg's Elbphilharmonie, clocking up yet another debut in was an extraordinary year.
2019 followed with the Estonian Festival Orchestra's debut tour of Japan in April. With sell-out concerts in Hamamatsu, Fukui, Nagoya, Osaka, Hiroshima and Tokyo's Suntory Hall, the orchestra was joined on stage by soloist, Midori. Japan's leading classical music magazine, Ongaku no Tomo, featured Paavo on its front cover to celebrate the arrival of his orchestra in the country and the huge success of the tour resulted in immediate invitations to return in three years time. As always with the Estonian Festival Orchestra, the concerts were high on both energy and authenticity, performing repertoire that is specific to this ensemble – the music of the North – including works by Sibelius, Prokofiev, Tchaikovsky and Estonia's very own Arvo Pärt and Erik-Sven Tüür.In 2020 the Estonian Festival Orchestra releases its 2nd CD on Alpha Classics, dedicated to the music of Erkki-Sven Tüür in celebration of his 60th birthday. Tüür's 9th Symphony – Mythos, which forms the centre piece of the album and is dedicated to Paavo Järvi, was recorded live at the 2018 world premiere performance in Tallinn. Both Incantation of Tempest and Sow the Wind were recorded live at the Pärnu Music Festival.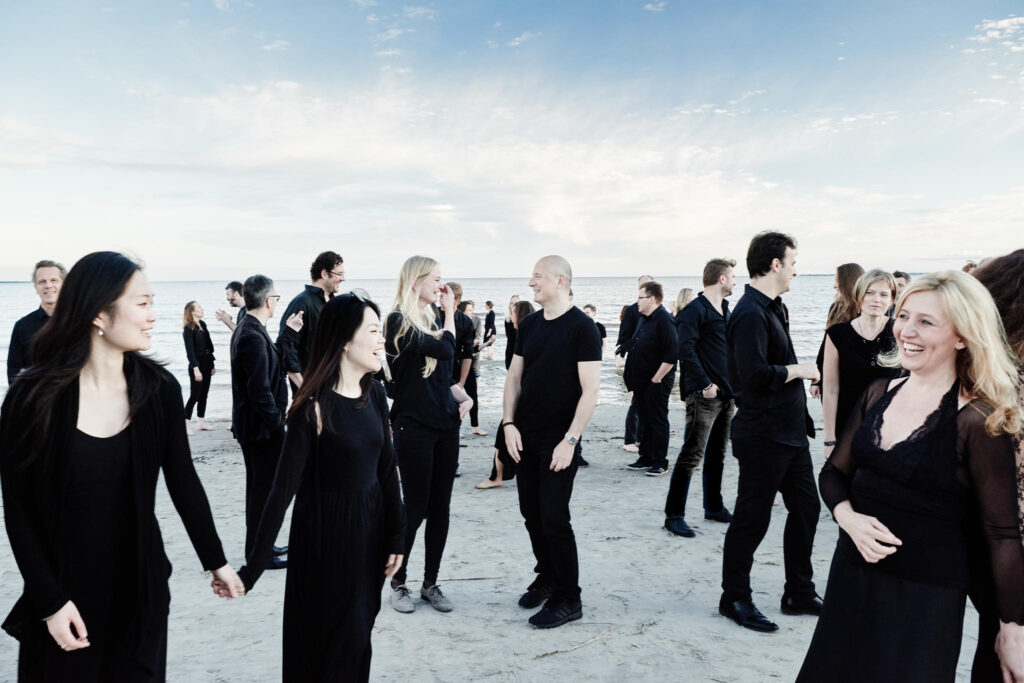 "… this was a performance of shape, depth, power, concentration, reactivity and ferocity. It rose from first note to last, and by the final pages – drawn out by Järvi to underline Sibelius's heart-rending sense of strain – it resembled a roaring cry for freedom. Few could have missed the symbolism, as if the dozens of young Estonian musicians among the ensemble were seizing the opportunity to introduce themselves to the world. The audience went wild, with pride as much as with joy."
                              Klassisk, Denmark
"in a run-through of the first two movements of Sibelius's Second Symphony, the brilliant clarity suddenly also gave way into an enormous emotional depth, which was not least born from the intimate string sound. The great music of the Finn, as newly born in a Pan-European spirit: a moving promise."
Die Presse, Austria
"In the Pärnu concert hall Sibelius' symphony is suddenly transformed into a game of light and mass … Music for the eyes in both form and meaning, and there is nothing more fascinating."
Der Standaard, Belgium
"… this surely unrepeatable performance of Sibelius's Second Symphony almost burned the house down with its incandescence … the slow movement especially more inspired and dangerously intense than I've ever heard it.
The Arts Desk, UK
… The Sibelius symphony showedan orchestra with a nerve and willingness to play all the way … the energy and cohesion to create an uncontrollable and direct symphonic world that hit right in the diaphragm."
Politiken, Denmark