Marius Järvi (cello) was born in Tallinn in 1981 and started playing the cello at the age of four. In 1987, he entered the cello class of Laine Leichter at Tallinn Music High School. In 1995, Marius Järvi continued his studies at the Päijät-Häme Conservatory in Lahti as a student of Jouko Paavola. In 2000, he began his studies at the Sibelius Academy under the guidance of Professor Martti Rousi.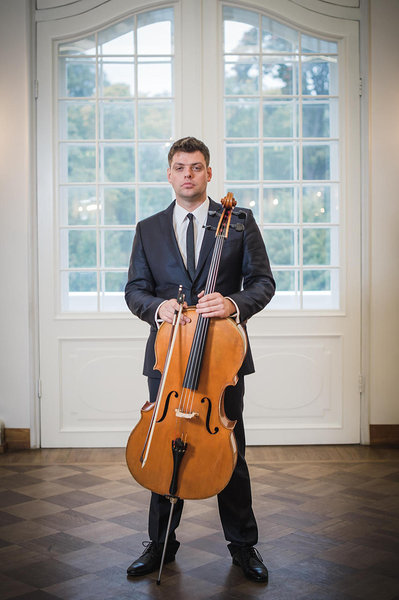 Marius Järvi has successfully participated in and won prizes at several competitions. In 1989, he won third prize at the international competition for young cellists in Ústí nad Orlicí, Czechoslovakia, in 1995 first prize at the Estonian competition for young string players and in 2002 first prize at the Estonian Competition for Young Interpreters "Con Brio". On seven occasions, he has taken part in one of the world's largest cello festivals in Kronberg, Germany. Marius has furthered his studies in the masterclasses of several internationally renowned cellists, including Frans Helmerson, David Geringas, Arto Noras, Maria Tchaikovskaja, Gary Hoffman, Marko Ylönen, Jan-Erik Gustafsson, Hannu Kiiski, Robert Cohen, Thorleif Thedéen, Timo Hanhinen.
Marius Järvi has performed as a soloist and chamber musician in many European countries (Germany, Belgium, Spain, Portugal, Sweden, Czech Republic, Finland, etc.). He has appeared as a soloist with the Estonian National Symphony Orchestra, Tallinn Chamber Orchestra, Turku Philharmonic Orchestra, Estonian Festival Orchestra, Pärnu City Orchestra and others under the baton of conductors Neeme Järvi, Paavo Järvi, Risto Joost, Paul Mägi, Tibor Boganyi, Atso Almila, Anu Tali and Kaisa Roose. Marius Järvi has also appeared on several recordings, including as soloist on Urkutaikuri (2001), on a CD with Rene Eespere's cello concerto Concertatus Celatus (dedicated to Marius Järvi), and many others. In 2000, Marius Järvi released his solo album Via in collaboration with the world-famous organist Kalevi Kiviniemi. From 2005 to 2013, he worked with the Estonian National Symphony Orchestra and is a member of the Hulencourt Soloists Chamber Orchestra and the Estonian Festival Orchestra. Since 2014, he has been cellist in the orchestra of the Estonian National Opera and also works as a lecturer at the Vanalinna Hariduskolleegium, Tallinn. Marius Järvi is a member of the chamber music ensembles Järvi Instrumentalists and Estonian Cello Ensemble.