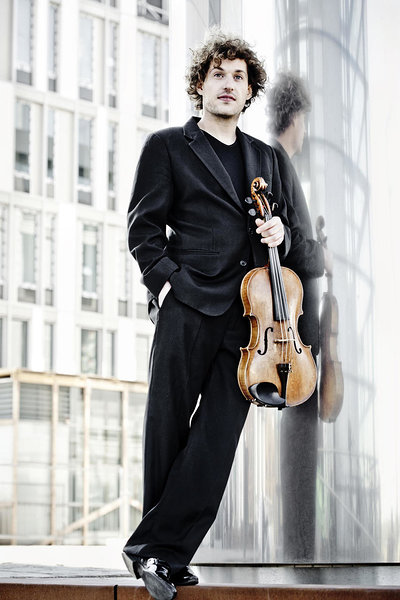 Xandi van Dijk was born in Cape Town into a musical family and started playing the violin at the age of 4, later switching to the viola. After completing his studies, Xandi became a founding member of the Cape Town-based Sontonga Quartet. The quartet toured extensively in South Africa and internationally, premiered over 30 South African compositions and as part of their education initiative played to 40,000 learners at schools across South Africa.
Since the end of 2007 Xandi has been a member of the Signum Quartet, with whom he appears on the most important podia and festivals in Europe. With them he has been a laureate of international competitions, and from 2011-2013 they were BBC Radio 3 New Generation Artists. Their recordings have received universal acclaim, and in 2014 the quartet was awarded an International Classical Music Award (ICMA) for their album "No.3" with works by Bartók, Schnittke and Berg.
Concert appearances have led the Signum Quartet from New York to Paris, from the Concertgebouw Amsterdam, the Wigmore Hall and the Berliner Philharmonie to the Schleswig-Holstein Music Festival, the Aldeburgh Festival, the Festival Aix-en-Provence and the BBC Proms.
Xandi 's chamber music partners include Leon Fleisher, Jörg Widmann, Igor Levit, Leonard Elschenbroich, Nicolas Altstaedt, Mark Simpson and Dominique Horwitz.
In 2015, the Signum Quartet launched Xandi's project #quartweet, a Twitter-based global call for scores of short quartets of 140 notes or less. The project was launched together with the Princeton Symphony Orchestra, where #quartweets by Grawemeyer and Pulitzer Prize-winning composers and Second Graders were premiered side by side.
As a conductor, Xandi has worked with all the major South African orchestras. He premiered P.L. van Dijk's opera earthdiving at the Spier Summer Festival, conducted the William Kentridge production of Mozart's Die Zauberflöte in Cape Town and Johannesburg, recorded the soundtrack to the Philip Noyce blockbuster Catch a Fire, and premiered Denis Goldberg and Matthijs van Dijk's Moments in a Life at the Stellenbosch International Chamber Festival in 2016, as well as Robert Fokkens' A Darkness Insinuating in 2017.
In September 2017, Xandi will take up the principal viola position with the Munich Chamber Orchestra.