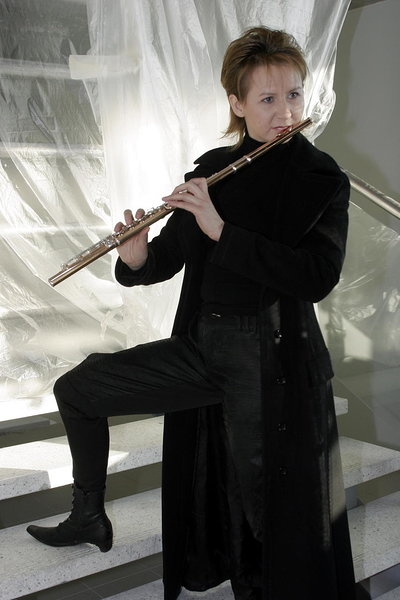 Monika Mattiesen, a flautist and a composer, has primarily attracted attention as an interpreter and creator of contemporary music and electro-acoustic music for multimedia, and a promoter of new pieces by Estonian composers. She is the establisher and artistic director of the ensemble Küberstuudio and an active figure of music life.
In 1991, Mattiesen graduated from the Tallinn State Conservatory (now Estonian Academy of Music and Theatre) in the flute class of Jaan Õun. Her Master's studies continued at the Jāzeps Vītols Latvian Academy of Music under the guidance of Vilnis Strautinš, from which she graduated in 1993. Today, Mattiesen is carrying out her doctoral studies at the Estonian Academy of Music and Theatre in the speciality of multimedia composition. She has improved her flute knowledge and skills at the Royal Swedish Academy of Music.
As a holder of the IRCAM/Acanthes grant, Mattiesen has participated in the master courses of electro-acoustic music in Helsinki (2000) and in Metz (2004), where, in cooperation with a French composer Philippe Manoury, she performed his electro-acoustic piece "Jupiter". In 2003, at the IRCAM research centre in Paris, Mattiesen prepared the pieces of the composers (Philippe Manoury, Ivan Fedele, Kaija Saariaho, Pierre Jodlowski) residing there. She has participated in the master course by Karlheinz Stockhausen in Kürten, and from their cooperation, several of the composer's electro-acoustic pieces have found their way to Mattiesen's repertoire.
Mattiesen has worked as an orchestral musician at the Estonian Academy of Music and Theatre. As of 2000, she is a freelance solo flautist, an artistic director and a member of ensemble Küberstuudio, which she established herself. As of 2005, she is the artistic director of the International Contemporary Music Festival AFEKT (formerly, Estonian Composers' Festival).
As of 2015, she is a teacher of contemporary music at the University of Tartu. Since 2007, she is a member of the Estonian Arnold Schoenberg Society.
M. Mattiesen has soloed before the Athelas Sinfonietta (Copenhagen), ensemble mosaik (Berlin), Stuttgart Vocalsolisten, Tallinn Chamber Orchestra, Vantaa Symphony Orchestra, Krasnoyarsk Symphony Orchestra, Pärnu City Orchestra, Vanemuine Symphony Orchestra, 21st Century Orchestra, NYYD Ensemble, Symphony Orchestra of the National Television and Radio Company of Belarus, etc. She has cooperated with conductors, such as Erki Pehk, Enno Poppe, Risto Joost, Kaisa Roose, Lauri Sirp, Tõnu Kaljuste, Milkk Murdvee, and many others. Her repertoire primarily consists of contemporary music; she has premiered new pieces written specially for her by composers like Jüri Reinvere, Chikako Morishita, Tõnu Kõrvits, Mart Siimer, Toivo Tulev, Galina Grigorjeva, Timo Steiner, Helena Tulve, Mirjam Tally, Liis Viira, Tõnis Kaumann, and Margo Kõlar.
As a composer, Mattiesen has composed primarily electro-acoustic music, incl. the piece "Mandragora", which was chosen to represent Estonia at the International Rostrum of Composers in Portugal in 2007. In 2008, she completed her opera "DMeeter", which was commissioned by the Estonian Academy of Music and Theatre and premiered on the same year in the Kanuti Guild Hall, and chosen to participate at the International Contemporary Arts Festival NOW. Her pieces have been played by the Athelas Sinfonietta, Tallinn Chamber Orchestra, Male Quartet of the Estonian Philharmonic Chamber Choir, soloist ensemble Kyvski Kamerata, ensemble Una Corda, harpist Gunnhildur Einarsdottir, mezzo-soprano Iris Oja, flautist Leonora Palu, actors Mait Malmsten and Marius Peterson, and many others. In 2014, her piece "meng-leng-geleng" for narrator, orchestra and live electronics was premiered at the Estonian Music Days.
Mattiesen was awarded with the Estonian Cultural Endowment's Music Foundation award in 2008 for her opera "DMeeter". She has recorded music for the Estonian public television station Eesti Televisioon and for several compilation albums. She has also released her solo album "Manuscript" (Eesti Raadio, Monika Mattiesen, 2006), which includes flute music by Estonian composers. In 2014/2015, she was the holder of the "Live and Shine" grant of the Estonian Cultural Endowment.