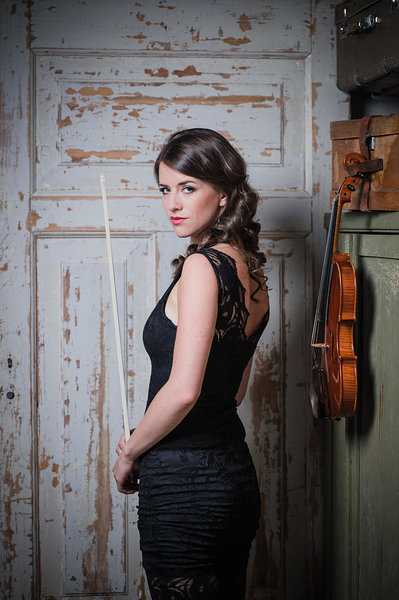 Miina Järvi was born in Tallinn, Estonia in the big family of musicians. She started to play the violin at the age of 4 in Tallinn with Ivi Tivik. In 1995 she continued her studies in Lahti, Finland, with Pertti Sutinen and in 2003 in Sibelius Academy, Helsinki, first with Erkki Kantola and later with Mari Tampere–Bezrodny. Miina graduated with master´s degree from Sibelius Academy in spring 2010.
She has also participated in master classes with teachers such as J. Rachlin, P. Zukerman, H. Shaham, S. Minz, P.Vernikov, I. Grubert, A. Vinnitsky, B. Gotmel, A. Fischer, I. Volochin, A. Chumacenko. In 2001 she won the second price in Juvenalia chamber music competition in Helsinki, in violin-piano series with her pianist brother Mihkel Järvi and at the same year the first prize and the special prize in Melartin chamber music competition in Savonlinna, Finland.
Miina Järvi has performed around the world as an orchestra soloist. The latest performances being with Estonian National Symphony Orchestra conducted by Neeme Järvi, in Järvi Academy Pärnu conducted by Paavo Järvi and together with the legendary violinist Ivry Gitlis. In 2012 with Neeme Järvi as a conductor and together with the pianist Alexander Markovich. In April 2013 she played as a soloist of Hulencourt Soloists Chamber Orchestra in Brussels, Belgium, conducted by Benjamin Ellin together with the pianists Boris and Evelyne Berezovsky. In September 2015 she played as a soloist of Azerbaijan State Pilharmonic orchestra conducted by Ayyub Guliyev. In January 2016 as a soloist of Slaitwaite Philharmonic Orchestra in England. Next performance as a orchestra soloist is going to be in Leigo music festival and with Kremerata Baltica.
Chamber music is also a big part of her professional life. She will be performing in the group "Järvi Instrumentalists" which will be heard from Autumn 2015 in Lithuania, Spain and USA. Miina Järvi will be also playing as one of the chamber musicians in July 2014 in Pärnu Music Festival, Järvi Academy. Due to her passion towards chamber music Miina Järvi has been organizing an international music festival in Estonia: "Lihula Muusikapäevad", since 2009. Besides solo and chamber music performances she has been playing in many orchestras
She is a member of the Järvi Festival orchestra, which is performing every summer during the Järvi Festival, working with Paavo and Neeme Järvi. Miina Järvi has also held classes both as a violin and a chamber music pedagogue in Lahti Conservatory, Helsinki Conservatory and Pärnu Music Festival – Järvi Academy.