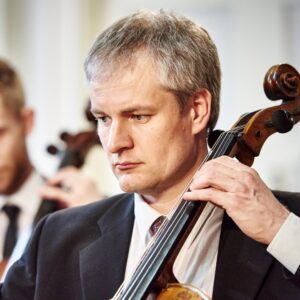 Leho Karin is one of the most esteemed cellists in Estonia. He graduated from the Tallinn Music High School under Laine Leichter and the Tallinn Conservatory under Toomas Velmet (1991). In 1991–1992, he continued his studies with Frans Helmerson at the Edsberg Music Institute in Sweden, and in 1992–1993 with Martin Ostertag at the Higher Music School in Karlsruhe; he has also trained under the tutelage of Mihhail Homitser and Josef Schwab.
Leho Karin is a prize-winner of the 1987 Republican String Players Competition. Since 1995, Leho has been a cello teacher at Tallinn Music High School. In 1988–1991, Leho Karin worked with the Estonian National Symphony Orchestra. Since 1993, he has been working with the Tallinn Chamber Orchestra, with which he has performed in many European countries, Japan, and the USA. In 1993–2012, Karin also played the cello with the NYYD Ensemble, which performed at many important contemporary music festivals in Europe, and then with the YXUS Ensemble, which grew out of the NYYD Ensemble. He has also played tenor gamba in the ensemble GambarinG.
Leho Karin has performed as a soloist in Finland, Sweden, Russia, etc., and has taken part in many projects in Estonia. He has performed as soloist with the Estonian National Symphony Orchestra, the Tallinn Chamber Orchestra, and the Saarbrücken Radio Orchestra. In addition to classical cello works (Haydn, Tchaikovsky, etc.), his repertoire also includes 20th century masterpieces, e.g. Britten, Esa-Pekka Salonen, Erkki-Sven Tüür, and Eduard Tubin. He has collaborated with several Estonian composers, including Raimo Kangro, Galina Grigorjeva, Erkki-Sven Tüür, René Eespere, Tõnu Kõrvits, and Helena Tulve, and has performed their new works.
Leho Karin has recorded a wide range of music, including works by Arvo Pärt, Heino Eller, and Erkki-Sven Tüür with the Tallinn Chamber Orchestra for the ECM record label. In 2020, Leho Karin released Lost Prayers (ECM), an album by Erkki-Sven Tüür, which was awarded the title of Chamber Music Album of the Year by the Estonian Music Council and the Estonian Phonogram Producers Association a year later. In 2018, Leho Karin was awarded the Estonian Cultural Endowment's Annual Prize for Music for his rousing and inspiring instrumental playing. Leho Karin has been entrusted by the Estonian Foundation of Musical Instruments with a cello by Francois Fourrier Nicolas (1798) and a bow by Claude Thomassin (Gand et Bernadel; 1890).