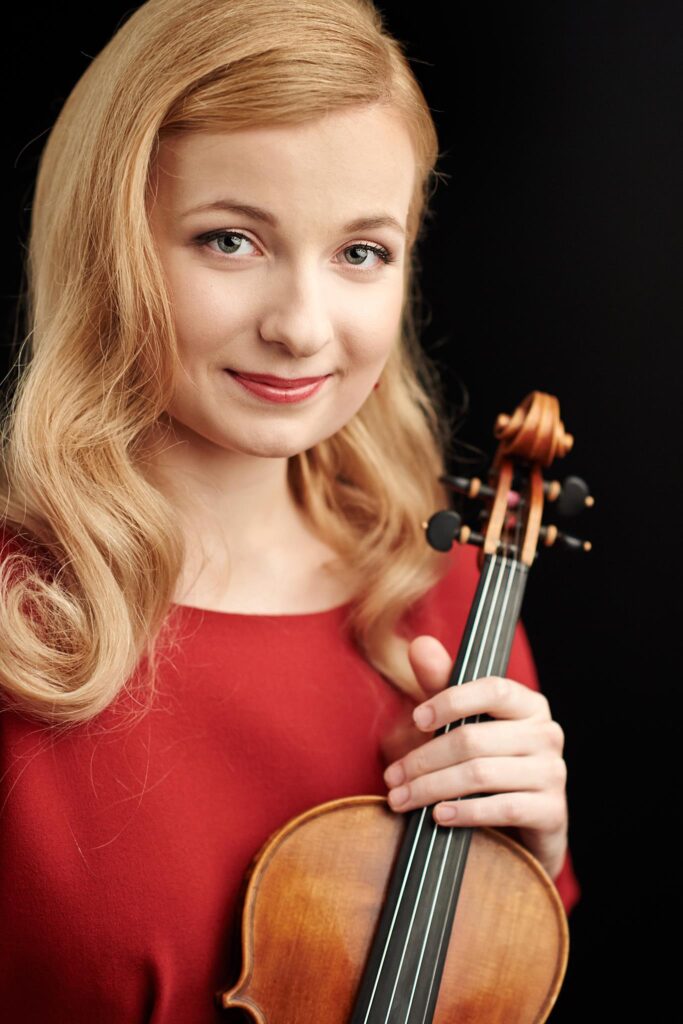 Katariina Maria Kits began her violin studies at the age of 6 under the guidance of Marge Lill and in 2002, she started in Tiiu Peäske's violin class at the Tallinn Music High School. She continued her university studies under Svetlana Makarova at the Higher School of Music in Lausanne, then under the tutelage of Marina Chiche at the Trossingen National Conservatory of Music and Arvo Leibur at the Estonian Academy of Music and Theatre (graduated cum laude). Since 2020, she has been taught by Tomasz Tomaszewski at the University of the Arts in Berlin and by Pavel Berman and Eva Bindere at the Foundazione Accademia Perosi. In autumn 2021, Katariina Maria will continue her postgraduate studies under Pavel Berman in Lugano, Switzerland (Conservatorio della Svizzera italiana). She has also taken part in numerous master classes.
Katariina has performed as soloist with several orchestras, e.g. Lithuanian National Symphony Orchestra (conductor Gintaras Rinkevicius), Russian Chamber Orchestra, Kymi Sinfonietta, Novosibirsk Chamber Orchestra, Jerusalem Chamber Orchestra, Israel Symphony Orchestra Rishon LeZion (all conducted by Andres Mustonen), Estonian National Symphony Orchestra (Olari Elts), Tallinn Chamber Orchestra (Risto Joost), National Opera Estonia Symphony Orchestra (Kaspar Mänd), Vaasa City Orchestra (Juha Kangas), Pärnu City Orchestra (Jüri Alperten), etc.
Prizes at competitions: Second place at the ESTA national competition for string players in 2005 and first place in 2007; Enescu violin competition in Sinaia, Romania (2006); second place in the international competition Young Musician in Tallinn (2009); first place in the ensembles category in duo with Maria Tiimus in Slovakia in the international competition Talents for Europe (2009); grand prix in the Tallinn Music High School competition Con fantasia (2010, 2012, 2013, 2014); second place in the Baltic String Players Competition in Vilnius (2018). Katariina Maria Kits has won the Estonian TV competition Classic Stars 2014. Since then, she has appeared frequently on television and radio. She has been awarded a scholarship to participate in the Astona International Summer Academy for several years.
Katariina Maria Kits performs on a violin by Henricus Catenar (1670, mistakenly marked Gioffredo Cappa, a student of the master), which was given to her by the Estonian Foundation of Musical Instruments.