Grammy Award-winning violinist Joshua Bell is one of the most celebrated artists of his era. Having performed with virtually every major orchestra in the world, Bell continues to maintain engagements as a soloist, recitalist, chamber musician, conductor and Music Director of the Academy of St Martin in the Fields. Born in Bloomington, Indiana, Bell began studying violin at the age of four, and at twelve undertook studies with his mentor, Josef Gingold. At 14, Bell debuted with Riccardo Muti and the Philadelphia Orchestra, and made his Carnegie Hall debut at 17 with the St. Louis Symphony. At 18, Bell signed with his first label, London Decca, and received the Avery Fisher Career Grant. In the years following, Bell has been named 2010 Instrumentalist of the Year by Musical America, a 2007 Young Global Leader by the World Economic Forum, nominated for six Grammy awards, and received the 2007 Avery Fisher Prize. In 2000, he was named an Indiana Living Legend.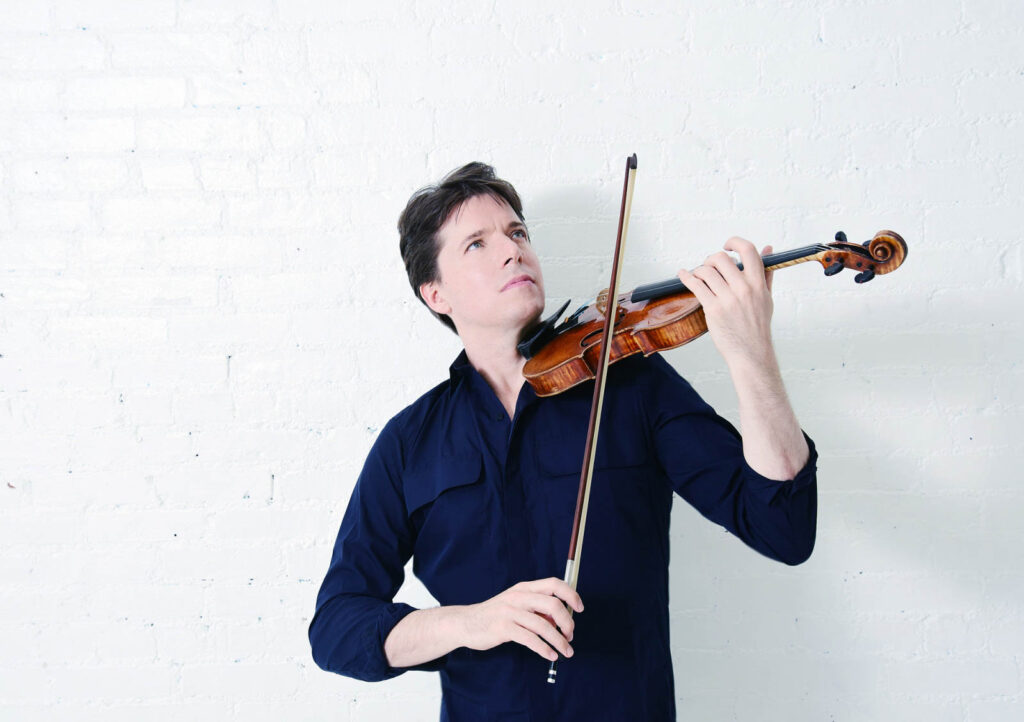 In 2011, Bell was named Music Director of the Academy of St Martin in the Fields, succeeding Sir Neville Marriner, who formed the orchestra in 1959. Bell's history with the Academy dates back to 1986 when he first recorded the Bruch and Mendelssohn concertos with Marriner and the orchestra. Bell has since directed the orchestra on several albums including Vivaldi's Four Seasons, Voice of the Violin, For the Love of Brahms and most recently, Bruch: Scottish Fantasy, which was nominated for a 2019 Grammy Award.
Bell's highlights in the 2021/2022 season include leading the Academy of St Martin in the Fields at the 2021 BBC Proms, and on tour throughout Europe and the US; returning with the Philadelphia Orchestra for a play/conduct programme, to the Verbier Festival, the Minnesota Orchestra and the New York Philharmonic; and tours with the Israel Philharmonic and NDR Elbphilharmonie Orchestra as a soloist.
Bell has been active in commissioning new works from living composers and has premiered concertos of John Corigliano, Edgar Meyer (double concerto), Behzad Ranjbaran and Nicholas Maw's Violin Concerto. In 1998, Bell partnered with composer John Corigliano and recorded the soundtrack for the film The Red Violin, which helped Joshua Bell become a household name and garnered an Academy award for the composer. Since then, he has appeared on several other film contracts including Ladies in Lavender (2004) and Defiance (2008). Bell has also collaborated with artists across a multitude of genres. He has partnered with peers including Renée Fleming, Chick Corea, Regina Spektor, Wynton Marsalis, Chris Botti, Anoushka Shankar, Frankie Moreno, Josh Groban and Sting, among others. As an exclusive Sony Classical artist, Bell has recorded more than 40 albums garnering Grammy, Mercury, Gramophone and Opus Klassik awards. Bell maintains an active involvement with Education Through Music and Turnaround Arts, which provides instruments and art education to children who may not otherwise experience classical music first-hand. 
Bell performs on a 1713 Huberman Stradivarius violin.