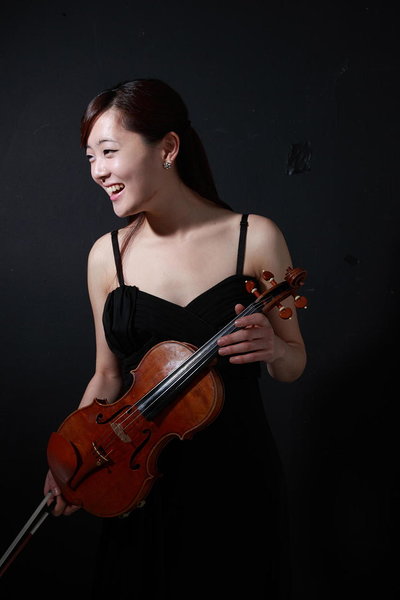 Emma Yoon, from New Zealand, began her studies with Stephen Larsen at the University of Canterbury in Christchurch and later moved to Germany to begin her Masters and Konzertexamen degrees under Professor Elisabeth Kufferath at the Hochschule for Music, Theatre and Media in Hannover. Emma now works as a full-time member of the Deutsche Kammerphilharmonie Bremen.
Emma has given recitals as both a solo and chamber-musician throughout Europe, the United Kingdom, USA and New Zealand in venues such as St-Martin-in-the-Fields, Salle Gaveau and the Pärnu Concert Hall, and has performed at festivals including the Edinburgh International Arts Festival, Rottweil Musikfestival Sommersprossen and the Heidelberger Frühling Festival. As prize winner of the New Zealand National Concerto Competition in 2010, she made her solo debut with the Christchurch Symphony Orchestra performing the Barber Violin Concerto.
Emma is an avid chamber-musician, collaborating with artists such as Sarah Christian, Florian Donderer and Tanja Tetzlaff, with a recent recording Jonny being nominated for an Opus Klassik in 2020. As former first violinist of the Lazarus String Quartet, touring throughout the UK and New Zealand as winners of the Pettman/Royal Overseas League Arts Scholarship. The quartet later joined the class of Oliver Wille at the Institute for Chamber Music Hannover and received regular coaching from Eberhard Feltz through their involvement with the ProQuartet Association.
Before becoming a full-time member of the Deutsche Kammerphilharmonie Bremen, Emma was an academist with them from 2017-2019. She has also held a Praktikum internship with the NDR Radiophilharmonie Hannover and has played as principal in ensembles such as the Kammerphilharmonie Landshut and Camerata Hamburg. Since 2018, Emma is also a member of the Estonian Festival Orchestra working with Paavo Järvi at the Pärnu Music Festival in Estonia.